Kelly Chibale wins Royal Society Africa Prize 2023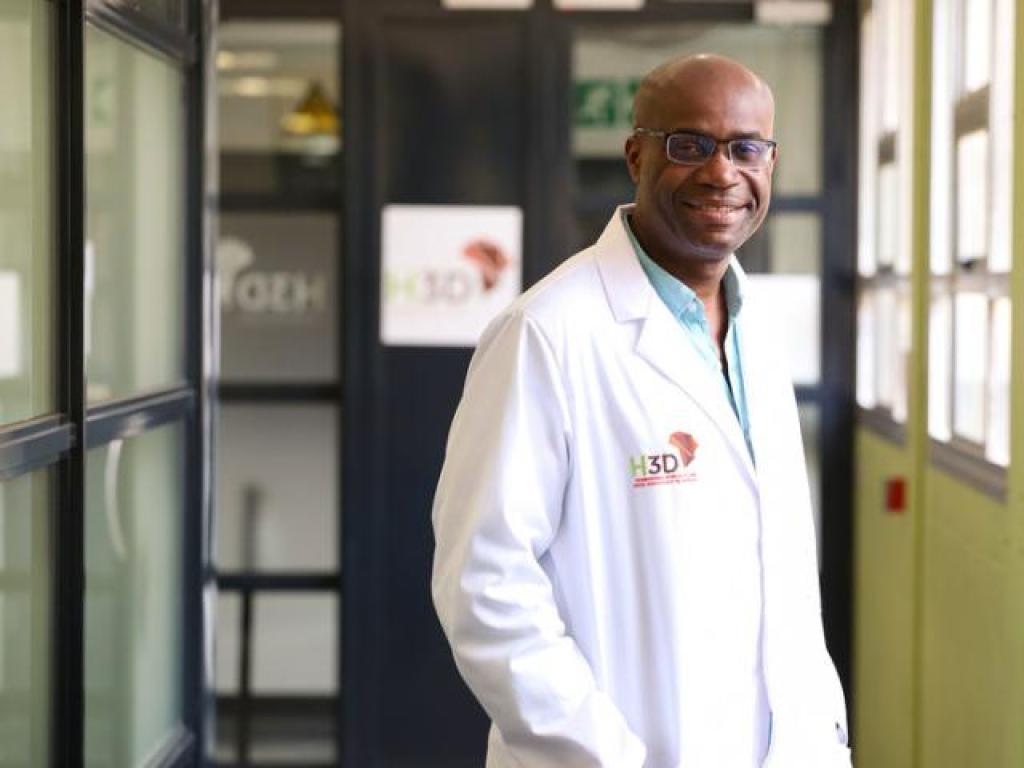 31 AUGUST 2023 | STORY KATHERINE WILSON. PHOTO JE'NINE MAY.
Professor Kelly Chibale, who holds the Neville Isdell Chair in African-centric Drug Discovery and Development, and who is the director of the Holistic Drug Discovery and Development Centre (H3D) at the University of Cape Town (UCT), has been awarded the Royal Society Africa Prize 2023.
The Royal Society Africa Prize is awarded to research scientists based in Africa who are making an innovative contribution to the biological or physical sciences, and which contributes significantly to capacity building in Africa. The citation for the award reads, "For exceptional leadership and groundbreaking work in drug discovery for African endemic diseases".
Professor Chibale said, "Looking at the full citation for the award, it means a lot to be singled out for recognition in two areas: leadership and scientific research excellence. This recognition coming from a highly prestigious international learned society and the United Kingdom's national academy of sciences is extra special – icing on the cake."
A team effort
The multi-award-winning researcher noted that drug discovery is an interdisciplinary team-based science that requires the integration of multiple scientific disciplines. "My team members at H3D come from the broad scientific disciplines of chemistry, biology, and pharmacology. ;Since it is not just about the science, the scientific teams at H3D are ably supported by in-house team members representing the broad disciplines of business development, operations, finance, project management and administration."
Ongoing projects
There are also many exciting ongoing projects that the team is working on, which will yield results in due course. "One project that I am personally most excited about is one with the overarching objective of evaluating the impact of genetics on the variability in treatment outcomes (with respect to efficacy and side-effect profile) among the African patient population," Chibale explained. "Africa is arguably the most genetically diverse continent on planet Earth and yet therapies have not historically been optimised for the African patient population. To scientifically address this health equity issue, there is an urgent need to include African data in drug discovery and development; a need that we recently highlighted and discussed in a comment published in Nature Reviews Drug Discovery."
This work received a boost with a recent (second) donation of USD$1.5 million from UCT alumnus and former chairperson and CEO of Coca-Cola, Neville Isdell.
Chibale and his team are also currently working on:
early-stage (preclinical) drug discovery against malaria, tuberculosis, and antibiotic-resistant microbial diseases
building Africa-specific models and tools to contribute to improving treatment outcomes in African patients
developing drug discovery platform technologies
training African scientists in drug discovery-related sciences, including expanding the community and ecosystem of drug discovery across the entire African continent.
---
Source Article: https://www.news.uct.ac.za/article/-2023-08-31-kelly-chibale-wins-royal-society-africa-prize-2023